Current Page
---
Sediment Sludge Bag
Sediment Bags for use on Cargo Tankers
Question regarding the Sediment Sludge Bag. I am looking for a bag with 50 kg capacity, size: 22 in. X 34in. Should be strong enough to hold 50 kg of sediment sludge, should be environmental friendly, to be used on cargo tanker, bags do not have to have labels, should be anonymous.
The quantity is 200 boxes of 50 bags each. I am not in the USA, I am in Yemen, Middle East. This is to be used by a petroleum company.
I do not have a picture to send you, is the above specification not enough?, You said you make different types of sediment bags. Please offer the one nearest to my spec.
Please give two offers, with 2 and 4 loop handles. Also send a picture of the offered item/s with your specs. Delivery should be to Texas, USA. So, please add delivery charges. Also advise availability and delivery time
Answer: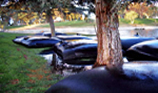 Thank you for contacting our Granite Environmental tech team. We can make many types of sediment bags and geotextile sludge bags. To make sure we both are on the same page a picture of the excisting bag or drawing of the requested sediment bag would be helpful. Another question would be if two or four loop handles are need on top of the sludge bag.


Similar sediment bags we can also manufacture are sediment bags for the use in shipping containers or roll-off containers. Please see a picture of our roll-off container liner on the right. Our sediment sludge bags can be built to fit inside a container with a closed top to hold the sludge secured.
To provide you the best product solution it would be important to know what your application is and what functionallity is required to make sure that our custom manufactured sediment sludge bag can fulfill your project needs.
Questions? We can help! Call our team at +1-772-646-0597 or submit a form.
Interested in a Price Quote? Send a Request!
If you have any additional questions, please contact our GEI Works product specialists at +1-772-646-0597.
---